Mike Tyson, the man dubbed the "Baddest Man on the Planet" was an absolute phenom back in his boxing heyday.
One of the names many boxing fans wish they could have watched live, his highlight reels and knockout clips are played over and over as some of boxing's greatest moments.
But there's one particularly ferocious moment that comes to mind when picturing Tyson (outside of the infamous Holyfield debacle) and it came in just his 8th professional boxing outing.
The date was the 5th of September, 1985.
A fresh faced 19 year old "Iron Mike" was 7-0 going into the fight, on the cusp of taking the heavyweight division by the scruff of the neck.
The man faced with stopping this unchained animal was a man named Michael Johnson.
Mike Tyson's massive KO of Michael Johnson
The fight, predictably, didn't last long, as Tyson dropped Johnson 37 seconds into the very first round, with a punch that seemed to shake the entire building.
A glove was fired through Johnson's guard, catching him square in the face, and making an audible booming noise, which was then reciprocated by raucous cheers from the Atlantic City crowd.
Video: Mike Tyson lands massive KO blow in 1985
The sound was just like the noise a punching bag makes as it gets blasted and battered in the training gym.
Tyson had turned this poor man into a punching bag.
In this modern world of easy access sporting clips, highlight reels and compilations, the average boxing and combat sports viewer becomes desensitised to all the ruthlessness and the violence.
But this blow, perhaps the single sweetest strike ever hit in a boxing ring, would make even the most hardened watcher physically gasp.
If you have to take a single punch, a single clip to epitomise the raw power and freakishness of Kid Dynamite, this one against Johnson would sum his career up very well.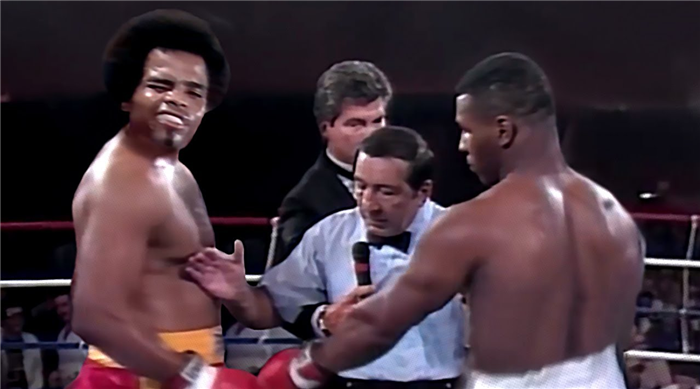 Sadly, Tyson's career would lurch from one controversy to the next as the years went on leading many to believe that he never truly reached the heights his early career had promised.
Thankfully, Tyson has got his life back on track since retirement and is now a successful figure and podcaster in the boxing and entertainment spheres.