Wiz Khalifa recently appeared on "Hotboxin' with Mike Tyson" with DJ Whoo Kid as co-host, and he shared a funny video of the two of them performing a challenging Mary Jane exercise on Instagram.
In the video, listeners can hear a podcast producer urge the leader of the Taylor Gang to demonstrate a kush-up for Tyson, to which the rapper responds that Tyson already knows how to do it.
'Somebody Come Help My Boy for Real': Mike Tyson Almost Down for the Count After Wiz Khalifa Teaches Him How to Do a 'Kush-Up'
Mike Tyson may be unstoppable in the boxing ring, but Wiz Khalifa definitely has him beat when it comes to smoking weed.
However, it looked as if the boxer needed a reminder.
"It's when you do 10 puffs, and don't exhale," Khalifa said to the confused-looking boxer.
A kush-up involves a smoker inhaling weed 10 times while also doing push-ups before finally blowing it out.
Tyson began to follow his guest's instructions to keep the smoke in his mouth per puff, but only made it to two inhales before he began uncontrollably coughing.
"That was two, that was two, you know. So, we'll work on the kush-ups," the 35-year-old artist told the boxing champ.
"Thank you," Tyson replied while attempting to catch his breath. He then pleaded, "Oh God, help me."
Khalifa's video received over four million plays with over 4,000 comments from fans who were amused by the entire interaction.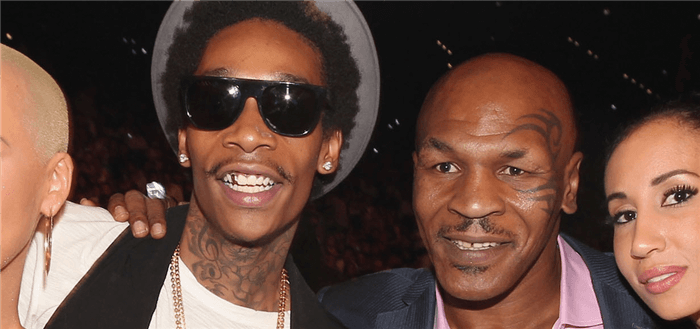 "get him some water"
"na I'm crying lol that s–t ain't for everybody"
"Iron Mike turned into an old grandma at the end there"
Khalifa also found amusement in their interaction as well, writing, "SMOKIN WIT CHAMP" for his caption, followed by, "Somebody come help my boy for real" under the post.
The kush-up challenge was created by rapper Gillie Da Kid and went viral at the start of the COVID-19 pandemic in 2020. While several rappers such as G Herbo, Jim Jones, Khalifa, Juicy J and more accepted it, it was Snoop Dogg who was crowned the kush-up challenge champ.
Not only did the Doggfather inhale 10 puffs without a single cough or break, he also added an extra five onto the challenge "just because."
"G S–t," he said. "I'm a real G. Who's up next? Challenge accepted, challenge done."
The 51-year-old recently revealed his new venture into the weed industry where his company called Death Row Cannabis will sell pre-rolls and packaged marijuana.
Snoop Dogg and Khalifa even collaborated on a song together titled "Kush Ups," which was released in 2016.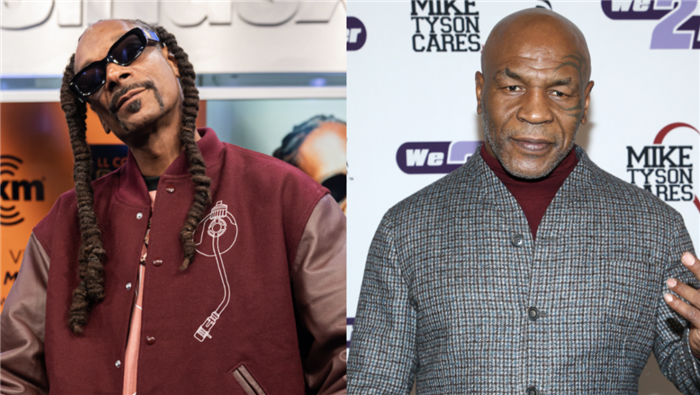 Mike Tyson Former undisputed heavyweight boxing champion Mike Tyson introduces Tyson 2.0, a high-end cannabis business, to the Valley. Like Iron Mike's devastating combinations in the ring, Arizonans will love his choice of cannabis products.
The winner balanced full-spectrum cannabis flowers, extracts, and consumables that are both affordable and expensive. Cannabist in Tempe sells packages with 3.5 grams of flower and 1 gram pre-rolls in a variety of strains. Later this summer, vapes and Mike Bites edibles will be offered.
The ear-shaped candies known as Mike Bites are a tribute to the time in 1997 when Mike Tyson, called "The Chomp," chewed off a portion of Evander Holyfield's ear during a heavyweight fight. A portion of each cannabis-infused product will be missing.
Snoop Dogg, an indica-dominant hybrid strain with a 70% indica content that "contains genetics from Sour Diesel and Lemon OG," according to Leafly.com, is one of a line of strains named after the Grammy-nominated G-funk rapper. The less pronounced lemon tones are overpowered by the Snoop Dogg OG's diesel fragrance.
Snoop Dogg OG is available at JARS Cannabis in Phoenix and GreenPharms dispensary in Mesa.
"We sell a lot of those [Snoop Dogg-branded] strains; probably a pound or two a day just for those couple strains," remarked Dalyn Oakes from JARS Cannabis.